Where to find our cheeses
In our store
Tel : +33 (0)3 89 40 42 22 – Fax: +33 (0)3 89 40 31 03
5 Rue de la Montagne, 68480 Vieux-Ferrette
Email : contact@fromagerieantony.fr
Shop opening hours during the year :
Monday to Friday : 10am to 12.30pm and 2pm to 6pm.
Saturday : 9am to 5pm.
Shop opening hours during the festive season :
Christmas week
Monday 18/12 to Saturday 23/12 9am to 6pm
Sunday 24/12 8am to 12am
New Year's week
Monday 26/12 : local public holiday (Im Alsace)
Tuesday 27/12 to Saturday 30/12 : normal opening hours.
Sunday 30/12 : 9am to 2pm.
Order in advance to save time!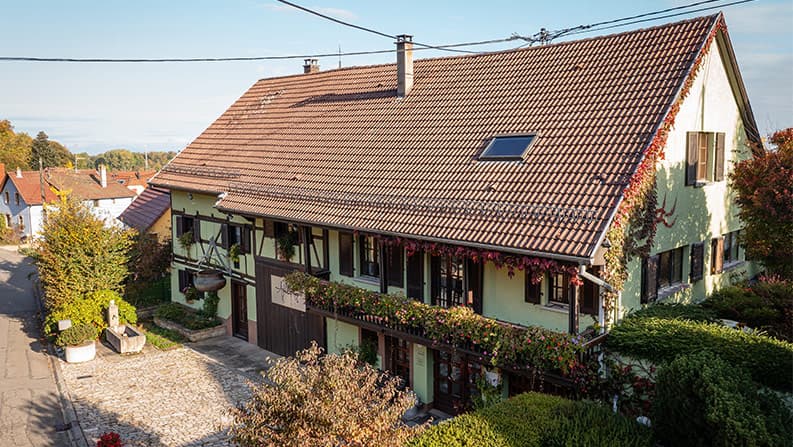 At the markets
Our mobile cheese shop has been travelling around some of southern Alsace's markets since 1982.
It can save you making a special trip to Vieux-Ferrette.
Riedisheim at the Aronde Centre, 20 Rue d'Alsace, on Wednesday mornings from 8am to 12pm.
Huningue in Place Abbatucci on Friday morning from 9am to 12pm.
Altkirch in Place de la République on Saturday morning from 9am to 12pm.
At our distributors
View a list of our distributors in Germany, Switzerland and Austria (soon)
Navigation systems are not good food guides!
Often, they mix up 5 Rue de la Montagne in Vieux-Ferrette with the same address in Ferrette, even if you have entered the village name correctly.
The two roads actually run one into the other. If your satnav thinks you are in the right place but you are not outside our cheese shop, go back up the road, follow the path through the edge of the forest and then continue along the road. You will find us on your right.