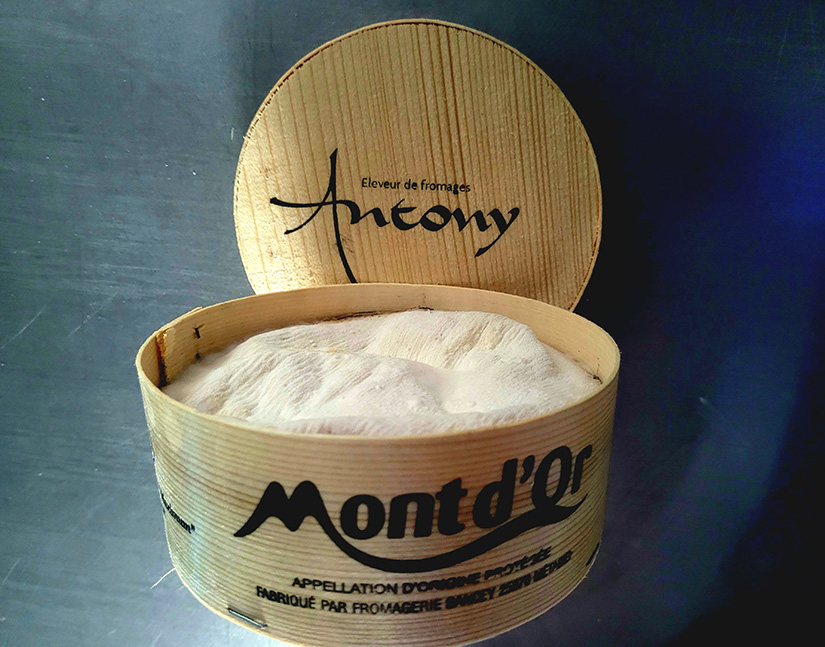 Only available for a few months, this cheese is hidden in a wooden box.
A famous cheese from the Jura mountains, it has a PDO and is produced on both the French and Swiss sides, although on the Swiss side it's more commonly known as Vacherin. A seasonal cheese par excellence, from late summer to late winter, it used to be used to produce smaller cheeses when milk supplies dwindled, and whose organoleptic qualities are better suited to this type of creamy cheese.

Raw milk in France and thermized milk in Switzerland are also two differences in their respective specifications. Our choice is the cheese made by the Sancey family in Haut-Doubs, who also produce all the well-known cheeses of the region, such as Comté and Morbier.
In its wooden box, the cheese is encircled by spruce, and hides a wrinkled rind that ranges from pale yellow to reddish-brown.
All too often, the habit was adopted of eating it warm in the oven, because when offered young, the cheese was of little interest, with a flavor that had little depth. Kept for several weeks in a warm, damp cellar, rubbed regularly with water or wine, it develops aromas marked by the woodiness of its habit, and approaches the notes of cheeses with character, with macerated, penetrating flavors. It's best to chamber it well in advance, to fully appreciate a taste that simply needs time and care to express its full potential.
Région
Burgundy-Franche-Comté