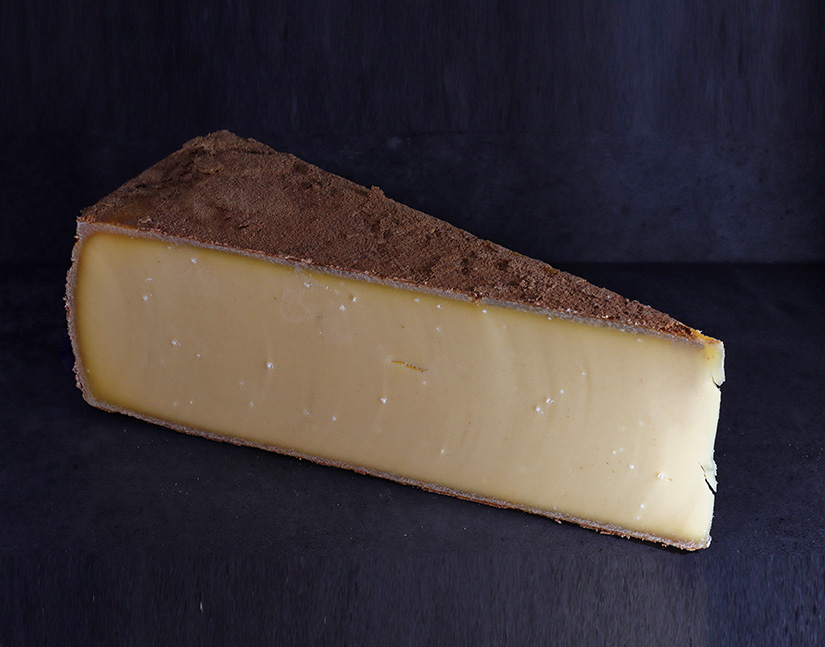 Genuine Gruyère cheese is made in Switzerland.
It takes its name from the medieval village of Gruyères in the canton of Fribourg. It's made in the Jura mountains, but some remarkable pieces mature for several months in the heart of the Alps.
The incredible flora of the Fort de la Tine cellars, nestled in the mountains, makes this slow maturation possible. Constant humidity and temperature in summer and winter. This former military fort provides the ideal tranquil setting for several thousand millstones to flourish. Only the most promising pieces are kept here to express and develop the complexity of their aromas.
Lunar crusted and cracked, the Gruyères we offer are the quintessence of ageing and maturing. Crystallized, marbled paste, deep gold color for pieces from the summer months, or lighter for those from the colder months.
Each wheel is unique, with flowery aromas, just a hint of acidity, and hints of cream and fresh butter, for an unrivalled length on the palate. We're proud to offer a cheese that everyone thought they knew until they tasted our pieces, patiently chosen, reserved with the greatest care, then offered at 2 years of age or more, to best illustrate their exceptional character.
Terroir
Refined in the pre-Alps at Forts de la Tine